Virginia Tech head football coach Frank Beamer and University of Virginia coach Mike London embrace at midfield after the Hokie's beat the Cavaliers 23-20, Saturday, Nov. 15, 2015 in Charlottesville in what would be Beamer's last game with the in-state rivals as he retired at the end of the season.
Old Dominion's Brandan Stith dunks in the first half against VCU.
Western Branch's Connor Epley slides safely into third base ahead of the tag by Cox's South Trimble.
Kempsville shortstop Drew Duplain dives for a ball that would drop in for a base hit during the Chiefs' 8-0 win over Gloucester in the 5A South Region quarterfinals.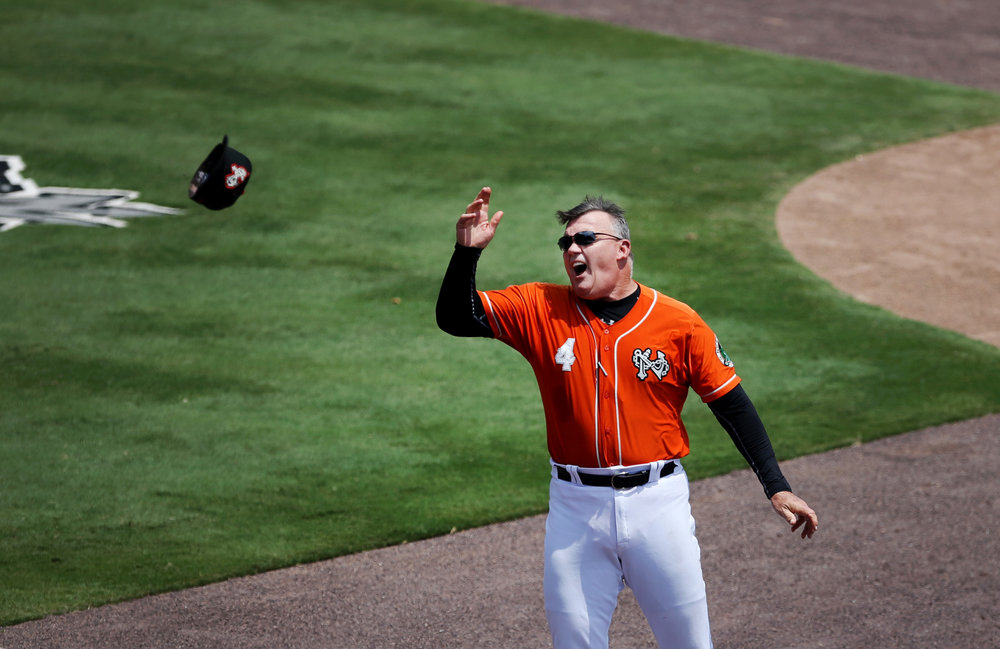 Tides manager Ron Johnson throws his hat into the stands, which has become customary after being ejected.
Pawtucket third baseman Jantzen Witte runs out of room on a foul ball off the bat of Norfolk's Christian Walker in Norfolk.
A Tides gameday worker yawns on Opening Night against Gwinnett at Harbor Park in Norfolk.
While on-deck, Norfolk's Chris Johnson greets his 18-month-old son Greyson and wife Tia in a 6-1 loss to Durham
Tides second baseman Chris Johnson stands in short right field while playing the shift defense against Scranton's Jake Cave.
Tides centerfielder Chris Dickerson hauls in a fly ball off the bat of Gwinnett's Ozzie Albies in Norfolk.
Rip Tide, mascot for the Triple-A Norfolk Tides, stands in the dugout before taking the field to entertain the crowd in a game against Rochester.
As a teammate celebrates skyward, an excited Landstown's Trinity Sudderth celebrates after her goal tied the match 1-1.
Norfolk's Louis Leblanc, center, celebrates his power play goal that tied the game 1-1 late in the first period in a game against Bridgeport.
Admirals goalie Dustin Tokarski watches the puck go into net for a Wilkes-Barre/Scranton goal to tie the game at two at Scope in Norfolk.
Old Dominion's Trey Freeman (20) is mobbed by teammates after hitting the game-winning shot at the buzzer to beat Murray State 72-69 in the National Invitation Tournament in Norfolk.
Norfolk State's Jordan Butler walks off the court after North Carolina Central's 50-47 win to claim the MEAC title at Scope in Norfolk.
ODU Lady Monarchs head basketball coach, Karen Barefoot, reacts to an officials call late in the second half of their 63-46 loss at the Constant Center in Norfolk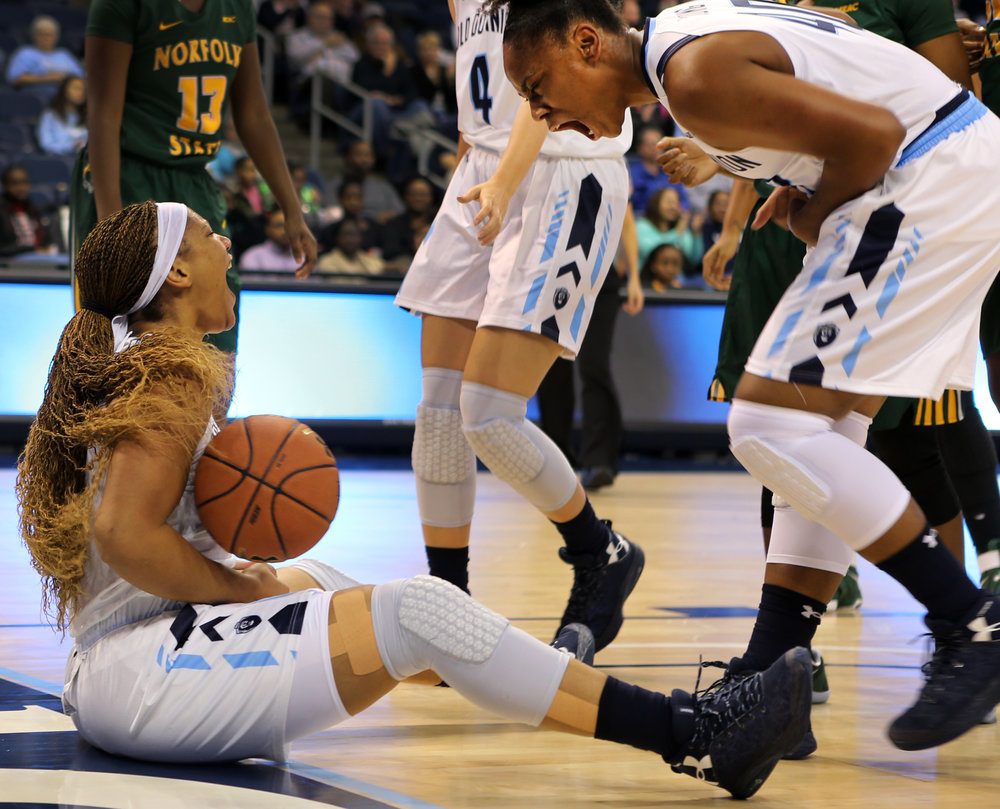 Old Dominion's Destinee Young, right, reacts to Jennie Simms at the Constant Center in Norfolk.
Old Dominion's Ahmad Caver shoots a free throw in a game against James Madison at the Constant Center in Norfolk.
Old Dominion's B.J. Stith dunks the ball over the backs of teammate Kalu Ezikpe, left, and Western Kentucky's Jared Savage during the first half at the Constant Center in Norfolk.
Old Dominion's Odegua Oigbokie is introduced before the start of the Lady Monarchs' game against Norfolk State at the Constant Center in Norfolk.
Clad in pink, the Old Dominion Lady Monarchs are introduced to the crowd before the start of the 'Hoops For The Cure' game against Charlotte.
ODU's Marsharee Neely, left, and teammate Nick Wright celebrate in the student section after knocking off VCU 73-70 to claim the CAA regular season championship.
The Old Dominion University football team takes the field prior to the start of their game against University of North Carolina.
The Deep Creek defensive line is shown in practice at in Chesapeake.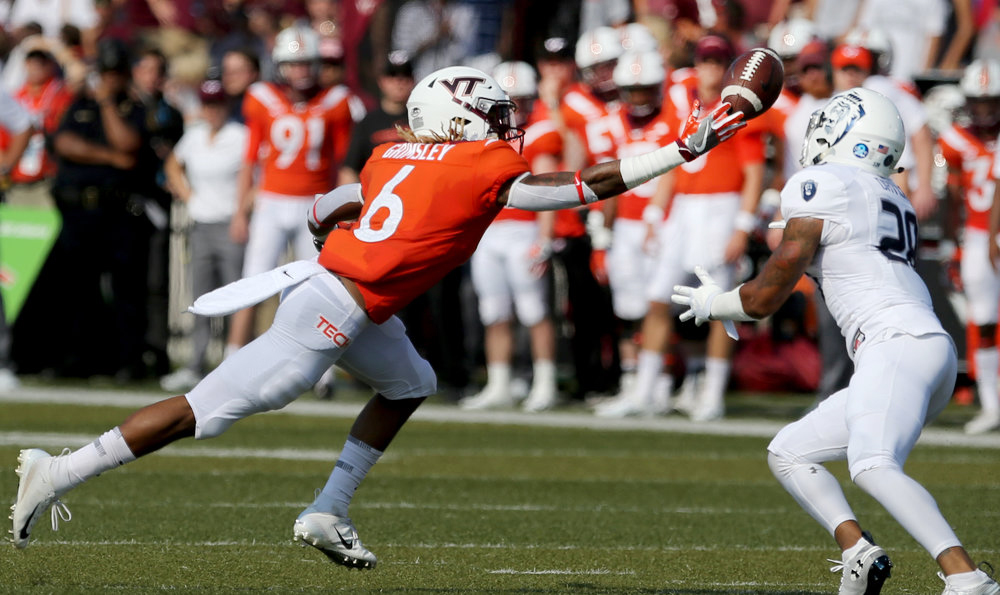 Virginia Tech's Hezekiah Grimsely, left, nearly intercepts a pass intended for Old Dominion's Justice Davila during the first half in Norfolk, Va.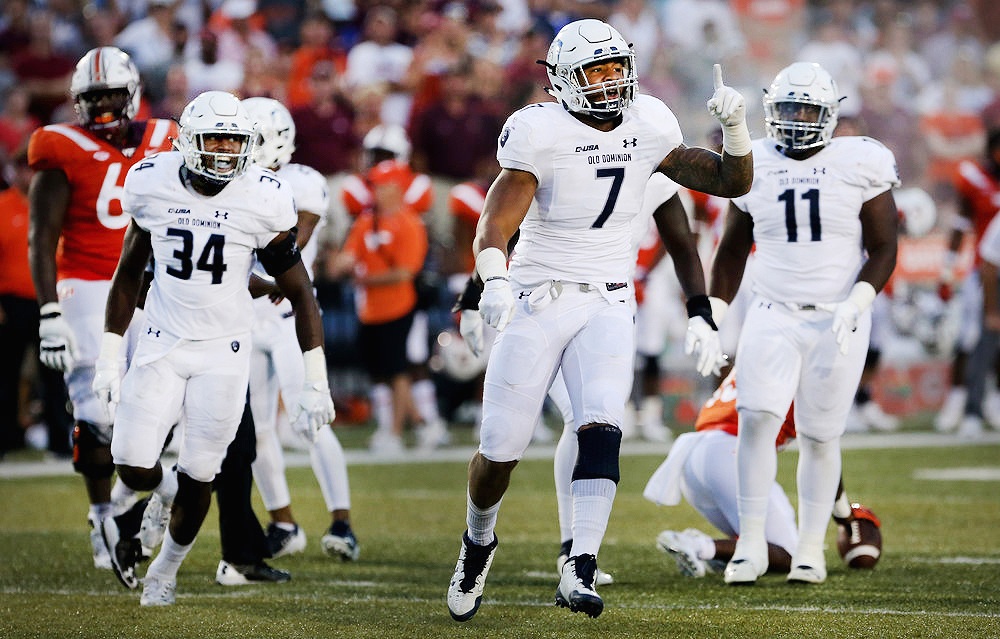 ODU's Oshane Ximines reacts after a first down during the second half of the Monarchs' improbable 45-39 win over Virginia Tech.
Cox's Carson DiNardo is hoisted in the air by teammate Cameron Wallace after DiNardo hit the go-ahead field goal with 2.6 seconds on the clock in the Falcon's 38-35 win over the Knights.
Cox's Carter Kovalcheck, in white, reacts after dropping a pass intended for him late in the second quarter as Ocean Lakes defenders (L to R) Corey Taylor, Treavonn and Brandon and Devontae Colona, look on.
Norfolk State's Mike Privott jumps in the air to celebrate after sacking Charleston Southern quarterback Malcolm Dixon.
An official reacts after they converge to determine whether or not a player was down in a game featuring Norfolk State University and Morgan State.
Bishop Sullivan's Jake Low appears to cross the plane but was ruled out of bounds during their 16-6 loss to nationally ranked IMG Academy in Virginia Beach.
Lake Taylor's Marquis Poole, center, leads the Titans onto the filed prior to the start of their game against Monacan.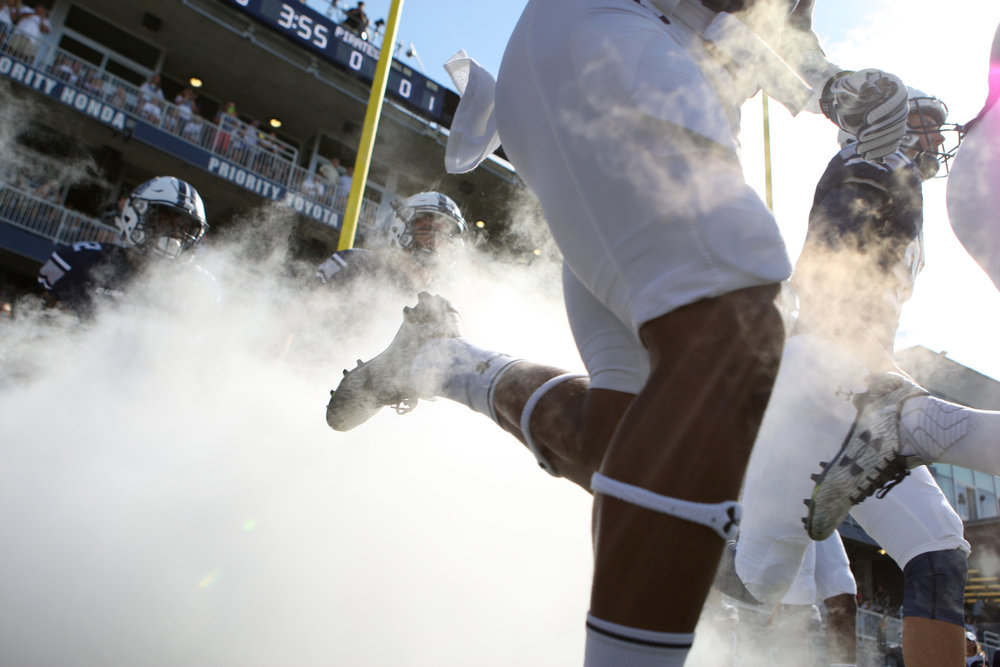 The Old Dominion University football team runs out on the field to the 40th consecutive sellout crowd prior to the start of ODU's 54-21 win.
King's Fork's Darran Butts breaks past Indian River's Demetri Payne, center, and Isaiah Hyman for a first quarter touchdown.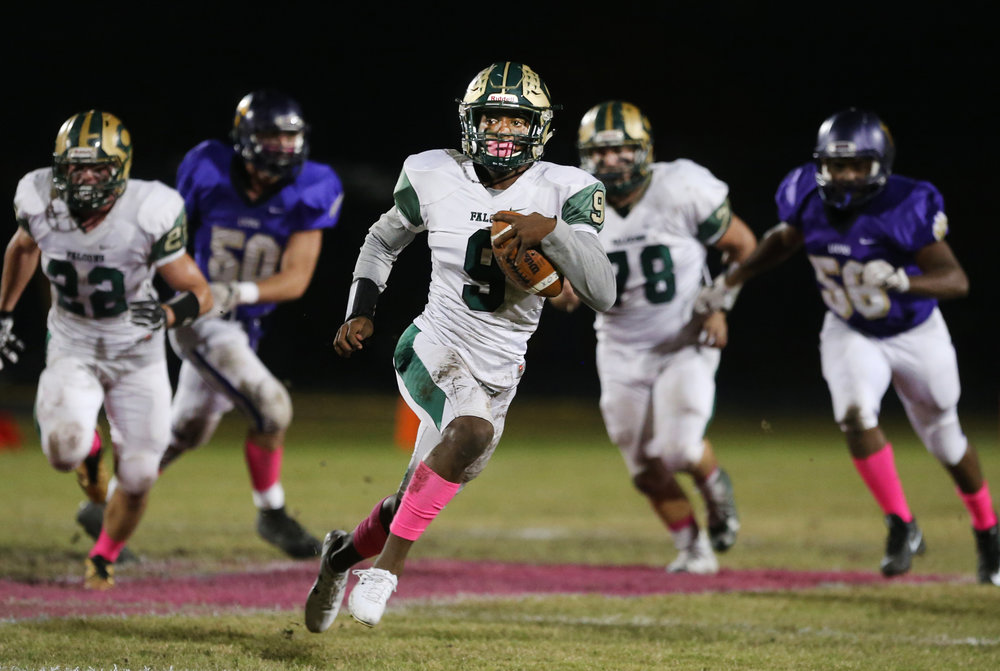 Cox's Tayvion Robinson finds yardage in the backfield during the Falcons' 28-24 loss to Tallwood.
UNC's Jordan Brown (2) finds a seam past Old Dominion's Sean Carter (31) during the first half in Norfolk.
North Carolina A&T's Marquell Cartwright is brought down by Hadji Gaylord as teammate Anton Ashby is pancaked at the bottom during the Spartans' 35-7 loss, Saturday, Nov. 4, 2017 at Dick Price Stadium in Norfolk.
Washington Redskins wide receiver Pierre Garcon signs an autograph during the team's NFL football training camp in Richmond, Va., Sunday, Aug. 2, 2015.
Bishop Sullivan's Liam Korka celebrates with the student section after scoring a second-quarter touchdown while playing Potomac School in the VISAA Division II state championship game, Saturday, Nov. 16, 2013 at Bishop Sullivan Catholic School in Virginia Beach. Bishop Sullivan won 50-44.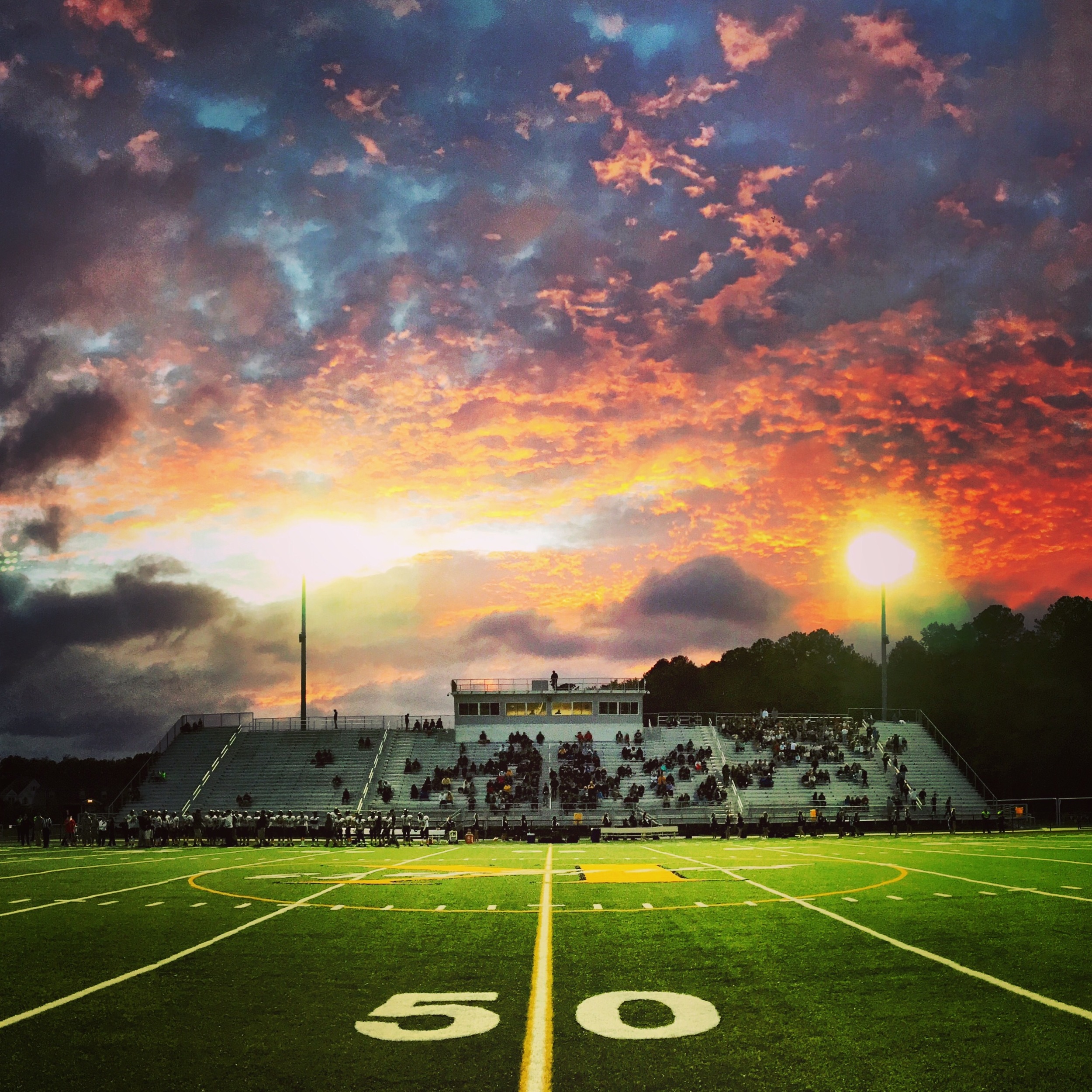 A dynamic sunset is pictured before kickoff.
The sun sets during the King's Fork at Hickory football game.
The student section at VCU celebrates in Richmond.
Grassfield's Erika Anderson, right, hits a winner past Western Branch's Michelle Debroux during the Grizzlies' 3-0 sweep.
Princess Anne's Jayna Francis soars and drills a winner past Atlee's Olivia Guridy and Brianna Brown, right, during the Cavaliers' three-set sweep in the Class 5 state semifinal.
Cox's Daniel Hurley hits a winner against Thomas Dale in the state semifinal match.
Todd Jarvis, of Virginia Beach, emerges front the surf after he determined the currents were too hard to surf as Hurricane Sandy pounded the Virginia coastline.
Grassfield's Grant Holloway, left, lunges for the finish line to win the 500-meter relay during the indoor track championships.
Great Bridge's Conrad Edler performs off of the diving board during their district meet.
Roger Altby, an Army veteran and amputee warms up on the driving range. Altby lost his leg after an IED explosion in Iraq and now golfs "because it's peaceful".
Olympic gold medalist LaShawn Merritt goes through a workout in Norfolk. Merritt had his two-year substance ban reduced to 21-months, allowing him to compete last summer at the world track and field championships.
First Colonial's Rowan Ennis, center with face, and teammate Emily Guimond embrace after First Colonial beat James Madison in five-sets to claim the Group 6A girls volleyball championship.
The Great Bridge Cross Country team emerges from the top of a hill before the start of a meet.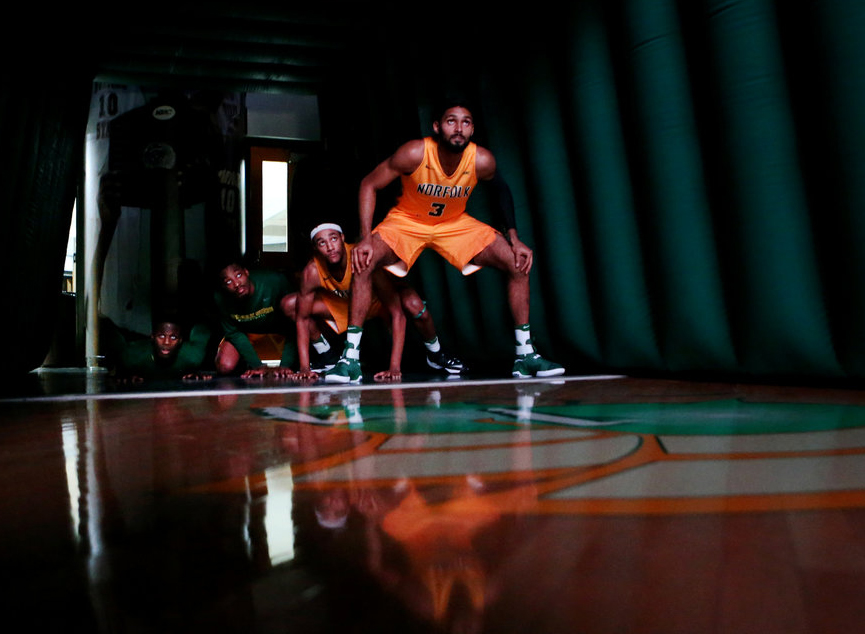 The Norfolk State University men's basketball team waits in the tunnel to be introduced prior to the start of their home opener against Shenandoah.
Ocean Lakes' Bretton Mann, top, wrestles Liberty's (Pa.) Dan Castro in the 152lb match on the opening day of the Virginia Duals wrestling tournament.
Old Dominion University teammates celebrate their 1-0 win over Charlotte to claim the C-USA soccer championship.
Hickory's Ashley Trotter celebrates with a teammate in the Hawks' win over Nansemond River.
First Colonial teammates celebrate after knocking off No. 1 Granby 8-2 to advance to the state championship.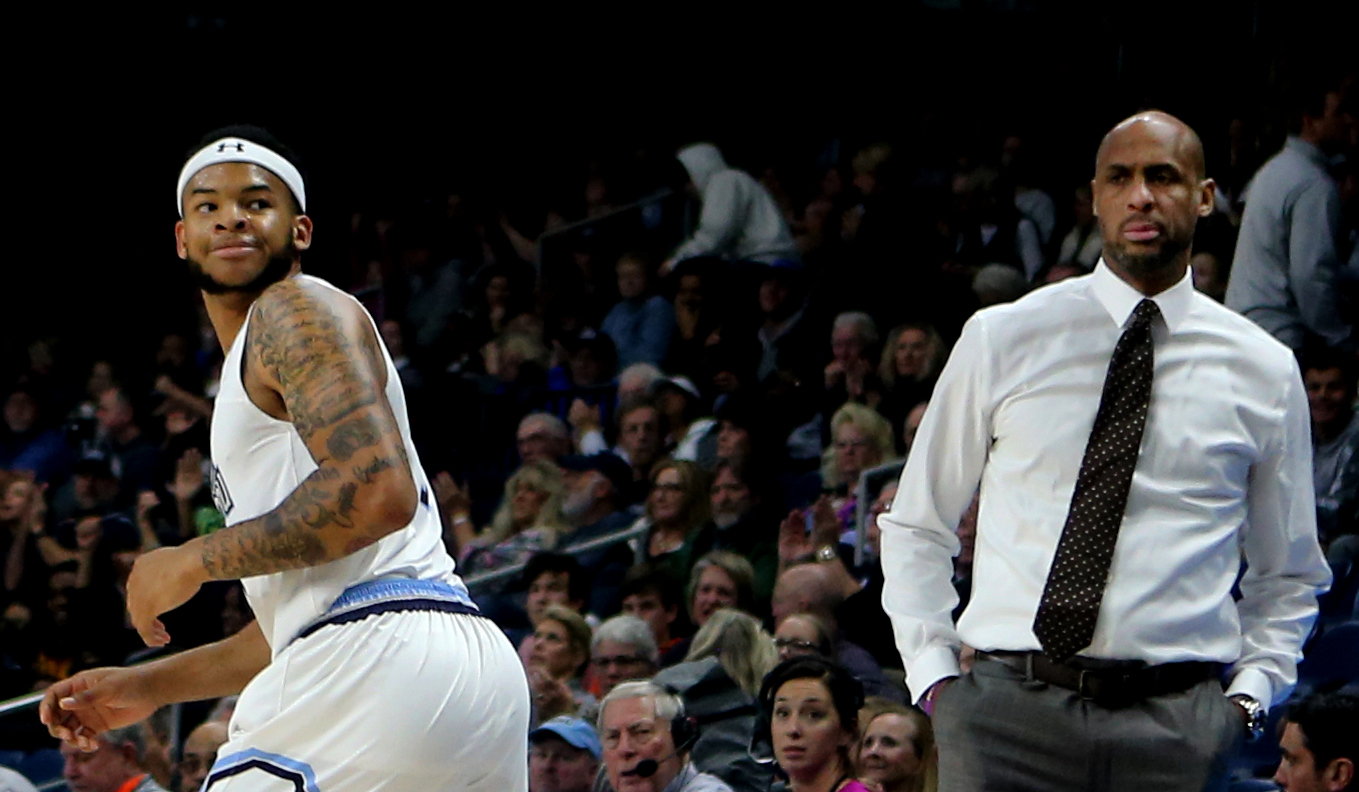 Old Dominion's B.J. Stith glances at James Madison head coach Louis Rowe after Stith drained a three-pointer in ODU's rout.